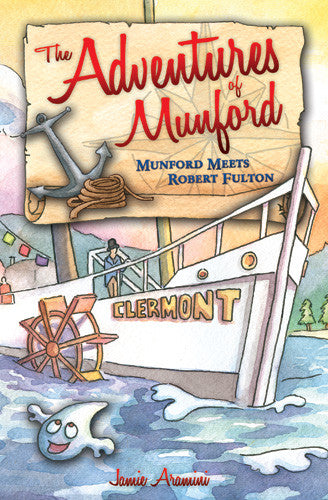 Munford Meets Robert Fulton
by Jamie Aramini
In Munford Meets Robert Fulton, Munford meets a young boy in colonial America with a knack for inventing. The boy grows up to become one of the world's leading inventors, Robert Fulton! Join Munford and Fulton as they race to create the world's first commercially successful steamboat. Along the way, you'll meet a colorful cast of characters, from Benjamin Franklin to Napoleon Bonaparte. Don't miss this exciting story as it takes you from a fledgling young nation, to the rivers of France, and back again!
Children reading these delightful chapter books will enjoy the story and learn a bit about a period in history. The stories frame historical periods in a way children can understand and make the lesson remarkable and unforgettable.
—Eclectic Homeschool Online
I found the books to move along at a pace that will keep the kids' interest, while providing great historical detail in a very readable format. You can't ask for much more of a historical fiction book. Words or concepts that may not be understood by readers are explained in a meaningful way within the text.
—Weird, Unsocialized Homeschoolers
When can we expect another Munford book? My daughter has read all of them and is looking forward to another.
—S.W.
The Adventures of Munford series is a set of historical fiction books which view history through the eyes of a water molecule named Munford. Yes, a water molecule. This makes perfect sense since water cycles in various forms and is present in every time period. Why didn't I think of this? What a clever way to transport readers back in time. Munford brings children along on his travels, teaching geography, history, science and more.
—Maureen @ The Homeschool Village
When we received the set of books in the mail, McKenna walked off with the books and started reading them right away. She is currently reading the third book in the series and really enjoying them! We know she is absorbing the info, because we constantly hear about Munford during the day.
—Homeschool Creations Blog
I will say that from the beginning, my 8 year old has LOVED this book. She took it with her on vacation and to her friend's house so that they could read parts of it together. She loves anything with great imagination and she was enthralled with the idea that Munford can travel all over the world and all through time as a water drop.
—Jenilee @ Our Goodwin Journey Blog
One of many things that I liked about the book – as a homeschool mother – is that that each chapter has the potential to springboard into many conversations. Possibly even unit studies. In addition to geography, there is history, science, and plenty of little tidbits of interesting information that are sure to leave an impression.
—Our Village Is A Little Different Blog
We began using it as a read-aloud, and found it enjoyable. It was easy to read (it's written at an elementary reading level) with short chapters, so I could fit a little in here and there for school breaks. Then I just let my children finish the book. While very simple for the older children to read, it had enough detailed and new information in it for them. They commented several times how well-written it was, and how naturally the learning was woven in to the story. The younger children were just completely captivated by the adventures of the cute little water droplet.
—The Cardamoms Pod Blog
My boys and I just finished reading The Adventures of Munford: Munford Meets Lewis and Clark. We thought it was wonderful. I was especially impressed that my 5 year old twins could sit through the chapters and even remember the details.
—K.R.
My daughters and I just finished reading Munford Meets Lewis and Clark. I was wondering if this is the only book in the series or if there were others written. My youngest daughter would really like to read what ever other Munford books have been written.
—L.S.
| | |
| --- | --- |
| Publisher: | Geography Matters |
| ISBN: | 9781931397704 |
| Edition: | 2011 |
| Product: | |
| Format: | Paperback or digital (pdf) |
| Size: | 5.25" x 8" |
| Pages: | 136 |