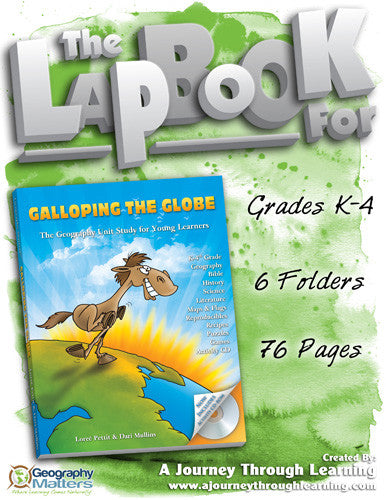 Galloping the Globe Lapbook
The Galloping the Globe Lapbook is specifically designed to go with our popular elementary geography curriculum, Galloping the Globe, which can be used from 1-3 years and covers all 7 continents.
This lapbook is available in a printed version or as a digital download. Not sure which format will work best for you? Visit our Lapbook Format page to learn more about available formats.
Lapbooks are a great way to engage your student's minds even further as they complete the fun and exciting activities provided!
The main objective of Galloping the Globe is to introduce students to the seven continents and a few of the countries within each continent. Along with studying geography, the students will be introduced to various historical figures, missionaries, holidays, and animals of the world. This study is geared for kindergarten to fourth grade level. It can be easily adapted to older or younger children using a few companion texts.
Our Galloping the Globe lapbook comes with two 3-folder lapbooks. The first lapbook is referred to as lapbook 1. It has three folders and covers Asia, Europe, and Christmas Around the World. The second lapbook is referred to as lapbook 2. It has three folders and covers the Poles, Mexico, South America, Africa, and Oceania. Both lapbooks are included in your purchase and cover the entire Galloping the Globe curriculum.
empty
| | |
| --- | --- |
| ISBN: | 59870 |
| Product: | |
| Format: | Printed or digital |