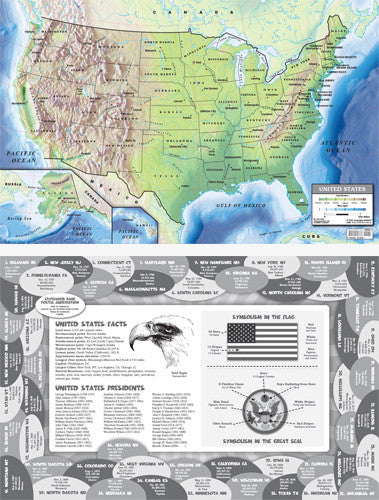 USA double-sided PlaceMap™. Spice up your classroom or kitchen table now! Perfect for use on any table, floor, or wall. Packed with plenty of fascinating facts, intriguing details, and engaging graphics. Features include:
Color side
Physical Features (land elevation & water depth)
Political Features (state and capital)
Main Rivers labeled
Longitude and Latitude Lines
and more...
Gray-scale side
State Facts (date of statehood, area in square miles with rank, name for residents, and capital)
United States Country Facts
United States Presidents
Symbolism in the Flag
Symbolism in the Great Seal
and more...
PlaceMap™ measures 10.75" x 16.75"
empty
empty
| | |
| --- | --- |
| ISBN: | |
| Edition: | 2014 |
| Product: | GMi010 |
| Format: | Laminated |
| Size: | 10.75" x 16.75" |