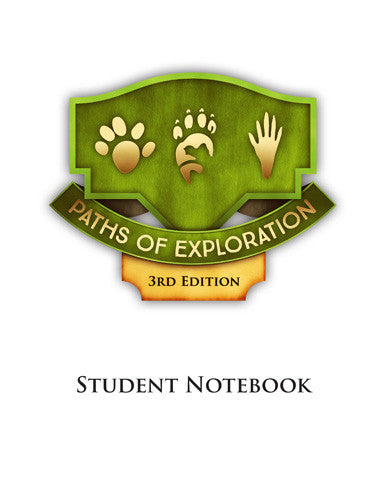 Paths of Exploration 3rd Edition - Student Notebook Pages
by Debbie Strayer
Student notebooking is an integral part of this curriculum. It is one of the benefits of the teaching approach used in the Trail Guide to Learning Series. Notebooking work assigned throughout the teacher manuals are clearly labeled on every student page by unit, lesson, part, and section.
The Third Edition Student Notebook Pages are sold by the unit and in your choice of digital download or printed and three-hole punched.
 Digital downloads include all three grade levels. 
The 3-Hole Punched Printed version is sold by the grade level. 
Please understand that there are well over 100 pages in each unit per grade level—approximately 1,000 pages in total for each level. If you choose digital downloads you will be printing a lot of pages. We highly recommend the printed pages. Your time is valuable and often in short supply when teaching at home, especially with multiple grades together. We think you'll find the additional cost is well worth the convenience of having these ready to use when you need them.
You can buy one unit at a time and pay as you go, but when you purchase all 6 units together we'll give you one of them free!
____________________________
These pages are ONLY for students who are using the THIRD EDITION of Paths of Exploration. 
If you need the First Edition Student Notebook Pages, click here.
For the Second Edition Student Notebook Pages, click here.
empty
| | |
| --- | --- |
| Publisher: | Geography Matters |
| ISBN: | |
| Edition: | 2016 |
| Product: | |
| Format: | Varies |
| Size: | 8.5" x 11" |
| Pages: | Varies |