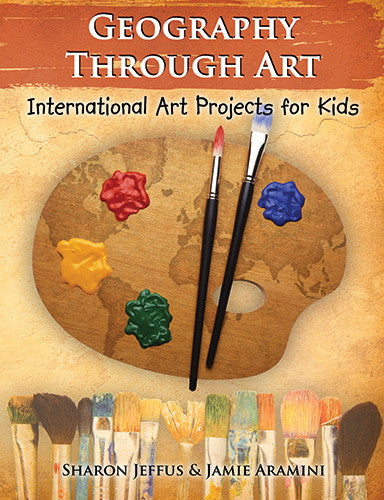 by Sharon Jeffus & Jamie Aramini
Geography Through Art is the ultimate book of international art projects. Join your children on an artistic journey to more than twenty-five countries spanning six continents. This Internet-linked book includes a variety of project types, from watercolor to paper mache to sculpting and more.
This title is available in paperback, digital download, or both.
Features include:
QuickSketch: assignments with step-by-step examples

ArtistProfile: bios of famous artist's contribution to society

CultureConnection: commonalities of art in different cultures

Materials Lists: included with every project

Geography Summaries

Reproducible Maps and Templates

Student Level Ratings

Internet linked for in-depth study opportunities

Recipe references to

Eat Your Way Around the World
Use this book as an exciting way to supplement any study of geography, history, or social studies. Geography Through Art is sure to make a lasting addition to your home or school library. You'll find yourself reaching for this indispensable guide again and again to delight and engage students in learning about geography through the culture and art of peoples around the world.
Here are just a few of the exciting projects inside:
Russian Mosaics

Polish Paper Cutting

Australian Didgeridoos

Indian Batik

Japanese Fish Printing

Chinese Scrolls

Aboriginal Dot Painting

Stained Glass Windows

Pennsylvania Dutch Fraktur

Tagua Nut Carvings
Recommended resource for:
When I received Geography Through Art in the mail from the publisher for review, I didn't have a lot of expectations about it. I simply needed to feature an art program and Geography Through Art by Geography Matters sounded interesting enough. Just so you know, I am not an artsy or crafty person and this subject often gets overlooked in our homeschool.
As I flipped through it real quick, I thought to myself "another big book of art projects that I would have good intentions about doing, but would get too overwhelmed to keep up with." Just to be fair, since I was doing a review, I started at page one, reading about the book's intended use, the different "categories" of each study, etc. You know, the stuff we all usually skip over. The further and further I got, the more interested I became. I wondered "hmmm...maybe this is something even I could do.
It starts out discussing the features and symbols, geography notebook you will be creating, art, safety, and teaching tips, and gives you a general supply list. The first section/unit is on the world; Planet Earth and maps. One of the coolest things I learned was how to make a map with your children and "age it." By now my interest has peaked!
It then goes over all of the continents and several countires in each continent. You get an overview of the whole continent and a map and all of the important facts. In the appendix you have several useful templates to use, such as the Countries of the World fact sheet your child can use with the study of each or some of the countries. Then it breaks down the continent into countries and provides art projects to do relating to that specific country and really cool facts about it. For instance, I didn't know that in Ghana (Africa Continent), a rare (but wierd) form of art existed such as coffin art. I also learned in this country about a Kente Cloth and the project cooresponding to it is creating one with construction paper. am SO pleased with this curriculum. In my non-crafty mind I can see myself actually being able to do this and having fun with it. I consider it an entire geography curriculum if you throw in some library books, extend some of the map lessons, and take advantage of the Countries of the World fact sheet. It definately is a whole art program and even involves some great history facts. I highly recommend Geography Through Art.
—Carrie Fernandez of Heart at Home Curriculum
"...combines Sharon Jeffus' artistic vision with author Jamie Aramini's writing talents. While retaining the 'heart' of teaching Geography Through Art, the revision features a snazzier, easier-to-use layout, crisper type and graphics, and many additional extras."
—Rainbow Resource Center
"Since there are several projects per country, your family has the flexibility to spend a little or a lot of time on a country. The projects are interesting, and with the detailed instructions, everyone can have success."
—Homeschoolchristian.com
"This remarkable work is friendly to whatever your children's learning style or your homeschool philosophy."
—Eclectic Homeschool Online
| | |
| --- | --- |
| Publisher: | Geography Matters |
| ISBN: | 9781931397582 |
| Edition: | 2012 |
| Product: | |
| Format: | Paperback or digital (.pdf) |
| Size: | 8.5" x 11" |
| Pages: | 128 |