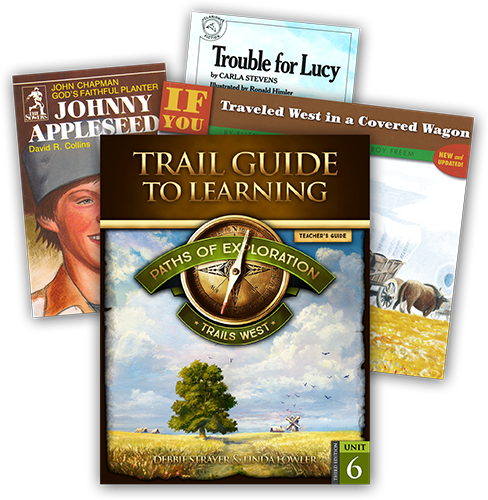 Exploration Trails West Unit Package
Your travels conclude with famous folk heroes and a family traveling the trail out west. Both were drawn to the opportunities and the wide-open spaces of the west, all the while measuring the cost and challenge of such a journey. With history and folk tales mixing to tell our story, wisdom comes forth as neighbor helped neighbor, everyone working hard, yet always saving a bit to share with a welcome stranger. Separating detail from the significant, students learn to identify main events as well as to read the intentions of individuals. The journey is completed with a review and reminder of all that has gone before—the successes and struggles, the pain and the joy of lives lived for the purpose of opening our great nation to those millions who would follow from all corners of the earth. Come along as these brave men, women and children guide you along the Paths of Exploration!
Package Contents
In addition to the core resources, the Trails West unit uses the following materials:
You will need to print student pages from the included PDF download file. For your convenience, ready-to-use printed student pages are available for each grade. The six weeks of student notebook pages are only $15 for each grade level. (Hint: preprinted student pages save time, pre-planning, and wear on your printer/toner cartridges.) We really want to make life easier for you—if you buy all six units at once we'll give you one of them free!
Projects and games in the Trails West unit include:
"The Hidden One" Reader's Theater
Dried Apples
Prairie Schooner
Hardtack
Buzz Saw
Beef Jerky
Thaumatrope
Bump-N-Bounce Butter
Pemmican
Model of Fort Laramie
Johnnycakes
Paper Windows
Popcorn Balls
Trails West Bingo
empty