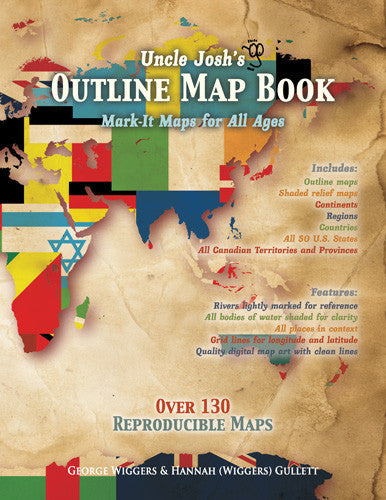 Uncle Josh's Reproducible Maps
by George Wiggers & Hannah Gullett
Outline maps are a foundational part of teaching geography and history. Here are hundreds of maps to use year after year, regardless of topic or time studied. From drawing explorer's routes to tracking hurricanes to depicting the rise and fall of empires, it's here! Includes continents, ancient historical regions, important war arenas, each of the fifty states, and more! Rivers are lightly shaded and surrounding borders are visible. You've got the whole world covered! Reproducible pages.
The book edition contains 130+ reproducible blank grayscale maps, while the Collection CD and Digital Download version has more than 260—including shaded relief maps of the world and each continent, many colored labeled maps, and also maps of each U.S. state and the Canadian provinces and territories.
NOTE: the physical book version and its variants do not include any colored maps. Color maps are in the complete map Collection on CD or Digital Download only.
Mac and PC compatible. PDF files, requires Acrobat Reader.
Used as a companion resource for Trail Guide to World Geography and Trail Guide to U.S. Geography.
"From kindergarten through high school graduation, Uncle Josh's Outline Map Book is a handy resource that you will refer to again and again!"
—Cindy Prechtel, Editor of homeschoolingfromtheheart.com
"The day that Uncle Josh's Outline Maps CD from Geography Matters arrived in the mail was the day I knew I had found an invaluable geography resource for our homeschool!"
—Mrs. Richard Hostler
"This is one of those resources that will serve your needs year after year, whether you are learning by way of unit studies or textbooks, unschooling or "living books" or anything in between!"
—Jean Hall www.eho.org. Read the full review at Eclectic Homeschool
"I teach Middle School World History in Greenville SC. I bought Uncle Josh's Outline Map Book at the ACSI convention. What a great help it was this semester! Thank you so much!! I'm really looking forward to using the Ultimate Geography & Timeline Guide. I can't wait till it gets here!"
—R. Mitchell
"If you have ever labored to find a blank map you could reproduce and hand out as your students are studying a region, time in history, or as a related activity in science or literature, Uncle Josh's Outline Map Book is definitely a must-have resource."
—Leslie J. Wyatt
| | |
| --- | --- |
| Publisher: | Geography Matters |
| ISBN: | 978162863008 |
| Edition: | 2013 |
| Product: | |
| Format: | Paperback |
| Size: | 8.5" x 11" |
| Pages: | 136 |