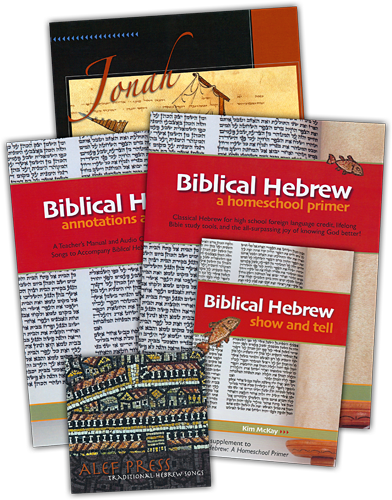 by Kim McKay
These books emphasize Biblical Hebrew as a tool for lifelong Bible study, worship, service, and joy. By completion of this series a student should be able to read from A Reader's Hebrew Bible, a Bible edition that provides same-page basic definitions of words that appear less than 100 times in Scripture. The path to that point will include Biblical culture, geography, history, and worldview. A student will be additionally equipped to use Bible reference tools, understand translation issues, study Biblical words in depth, and enjoy the language with fluent reading and singing.
Since primarily Jews and seminarians have been learning Biblical Hebrew lately, available texts generally expect you either to be immersed in Jewish tradition, or to have graduate level study skills and a professor of Ancient Near Eastern linguistics to hand. The goal of this series is to make Biblical Hebrew a viable and richly rewarding option for a homeschool foreign language course. The highest hurdles are crossed by the time you finish this primer: believing it is possible and mastering a new alphabet.
Biblical Hebrew: Annotations and Answers
Teacher's Guide and Music CD set
Supplies the answers and details with suggestions for use and supplemental resources. Includes original audio CD of 10 traditional Hebrew songs, an alef-bet song, and bonus track with music by David Weeks and lyrics from Matthew 5:6 in Hebrew. No teacher Hebrew experience necessary beyond amen and hallelujah!
Teacher's Guide (128 pages) with music CD, 8.5" x 11", 128 pages, paper.
Biblical Hebrew: A Homeschool Primer
Teaches how to read and write Biblical Hebrew with an introduction to vocabulary and grammar. With reverence for God, creative exercises, and a dash of fun, BIblical Hebrew unrolls the scroll for a lifetime of hearing God speak. Use as the foundation of high school foreign language credits; a deluxe, year-long exploration of Biblical geography, culture, and worldview; or as a prequel to any Hebrew course. Thorough and encouraging for ages 9 and up.
Student text and workbook: 8.5" x 11", 194 pages, paper.
Biblical Hebrew: Show and Tell DVD
This DVD supplement to Biblical Hebrew: A Homeschool Primer combines 43 engaging and insightful tales from history and tradition, gorgeous photos, the pronunciation of each lesson, and audiovisual review tailored to each chapter and song. Take the Show and Tell challenge: below are a few photos from the DVD to enjoy. How many can you identify?
2 DVD Set: 4.5 hours total.
The Jonah Copybook: An Interlinear Hebrew Translation Workbook
An interlinear translation workbook for beginning and more advanced students to use in different ways. Includes the entire Hebrew text of Jonah, word for word glosses, pronunciation and handwriting reference charts, and directions and space for copywork and translation exercises.
If you have more than one Hebrew student you may want to purchase additional copies of this workbook.
Student workbook: 8.5" x 11", 38 pages, paper.
Traditional Hebrew Songs
Audio CD of 10 traditional Hebrew songs, an alef-bet song, and bonus track with music by David Weeks and lyrics from Matthew 5:6 in Hebrew.
empty
empty
| | |
| --- | --- |
| Publisher: | Alef Press |
| Product: | BH100 |