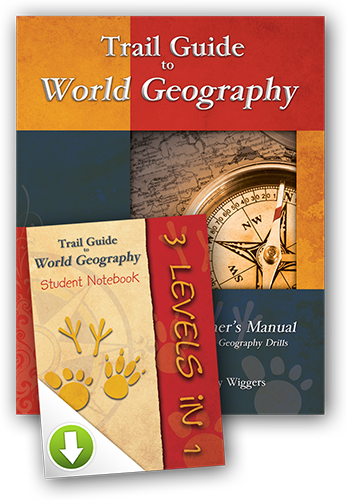 Basic World Geography Package
Includes Trail Guide to World Geography and 3-Level Student Notebook digital download. The Student Notebook downloads contain outline maps needed for outline mapping assignments and activities, and the student pages associated with two Trail Blazing assignments for each week. There are also generic template pages for any other Trail Blazing assignments you may assign.
Complete World Geography Package
This GeoPack contains the core materials your students need to complete the weekly Geography Trails and Mapping assignments and some Trail Blazing assignments. Select the atlas according to the trail you plan your students to follow. Included are also other resources that your student will use each week. They are:
Additional Recommended Resources
Additional resources are used when completing the more in-depth Trail Blazing assignments in Trail Guide to World Geography. Students can use library, Internet, encyclopedia or other sources, but if you like having most resources handy in your home library or want to make use of the art element, we want you to know about these highly recommended resources that really flesh out your study of world geography. These additional resources are not required but are certainly very helpful:
The Ultimate Geography and Timeline Guide—For information on how to teach geography, games, activities, note booking instruction, the five themes of geography and more, Trail Guide to World Geography references The Ultimate Geography and Timeline Guide by page number. This book can be used as a resource for your students to complete many of the Trail Blazing assignments and also to benefit you as instructor. We also recommend this book, referenced as TUG in the Trail Guide, for high schoolers looking to earn high school credit. See the high school course instruction sheet for more information regarding high school credit. 
Geography Through Art—Why not incorporate art while studying world geography! Students easily make the connection to the people and cultures of the world through their art. Whenever there is an art project in this book that is appropriate to the sections of the world you are studying each week, it is listed at the bottom of the Points of Interest page.
Deluxe World Geography Package
If you decide you want your students to also have ready access to all of these highly recommended resources, we've created a special bundle just for you. You save 34-36% when purchasing the all of the Trail Guide to World Geography resources Deluxe World GeoPack. This package includes everything in Complete GeoPack described above, plus both of the additional recommended resources.
empty